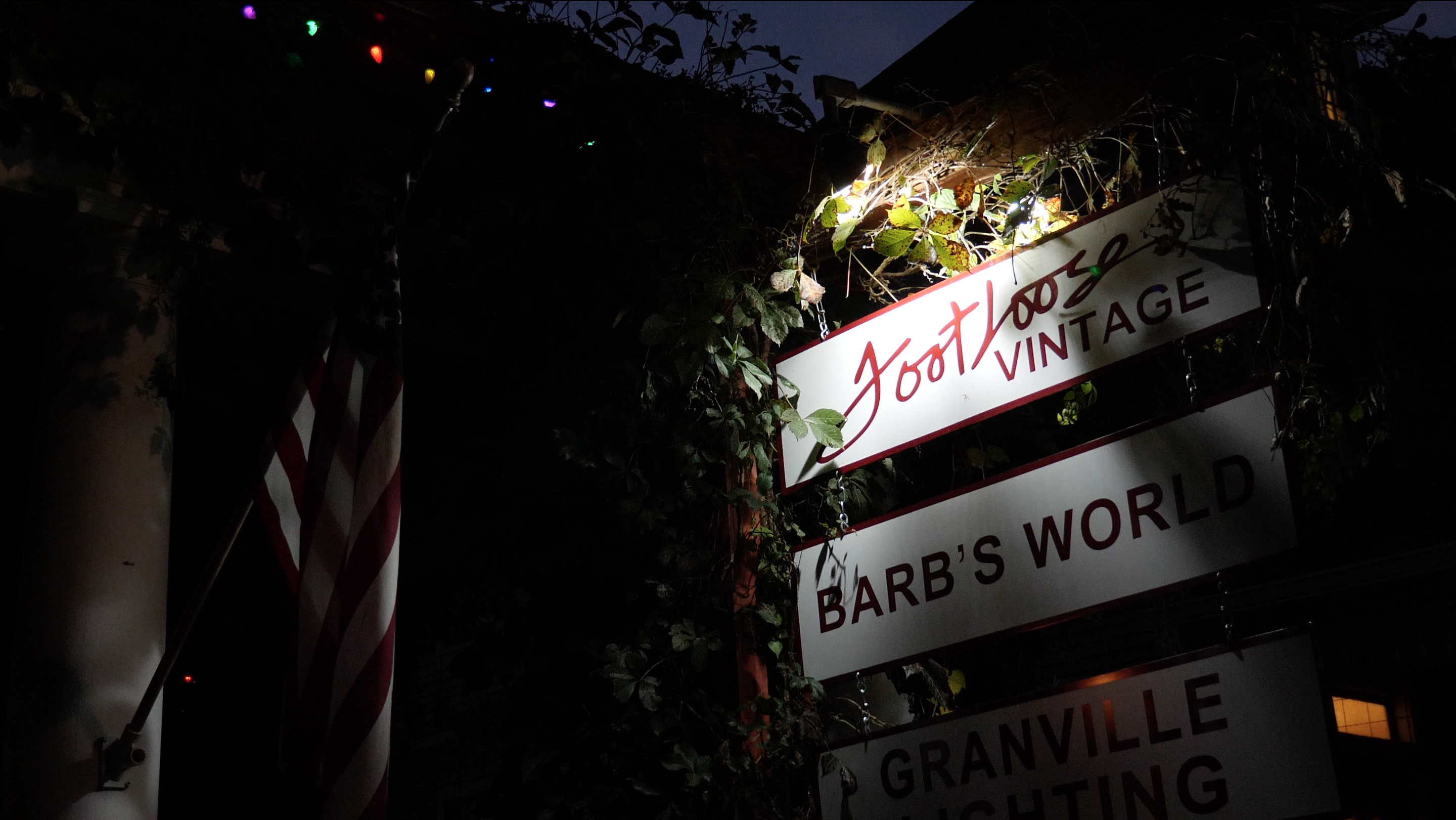 Taco Dan's might be one of the rare spots in Ohio where you can find strong margaritas, tacos, a curious dog, and serving tray sized nachos in the same room. Taco Dan's is a nearly ten year old bar and restaurant that opened in March of 2012 in the village of Granville.
It's a watering hole for locals and a hangout for the students at Denison University, just about 10-minute walk away. The bar and restaurant is squished between the Granville Police Department and neighborhood homes. A vine-covered sign on a pole by the edge of the front porch reads "Taco Dan's" and just below that, a smaller sign reads "Barb's World." 
On a Wednesday night in September, a sparse dinner crowd--an assortment of characters from across Granville, some young, some old. A Denison administrative assistant, Brenda Franks, and her husband chat back and forth with Barb while a couple of young men sit idly at the corner of the bar, half-watching sports on a TV mounted above.
Brenda says she's been coming here for years for good food and good conversation. She says the best time to be here is "Whenever Barb and Dan are here."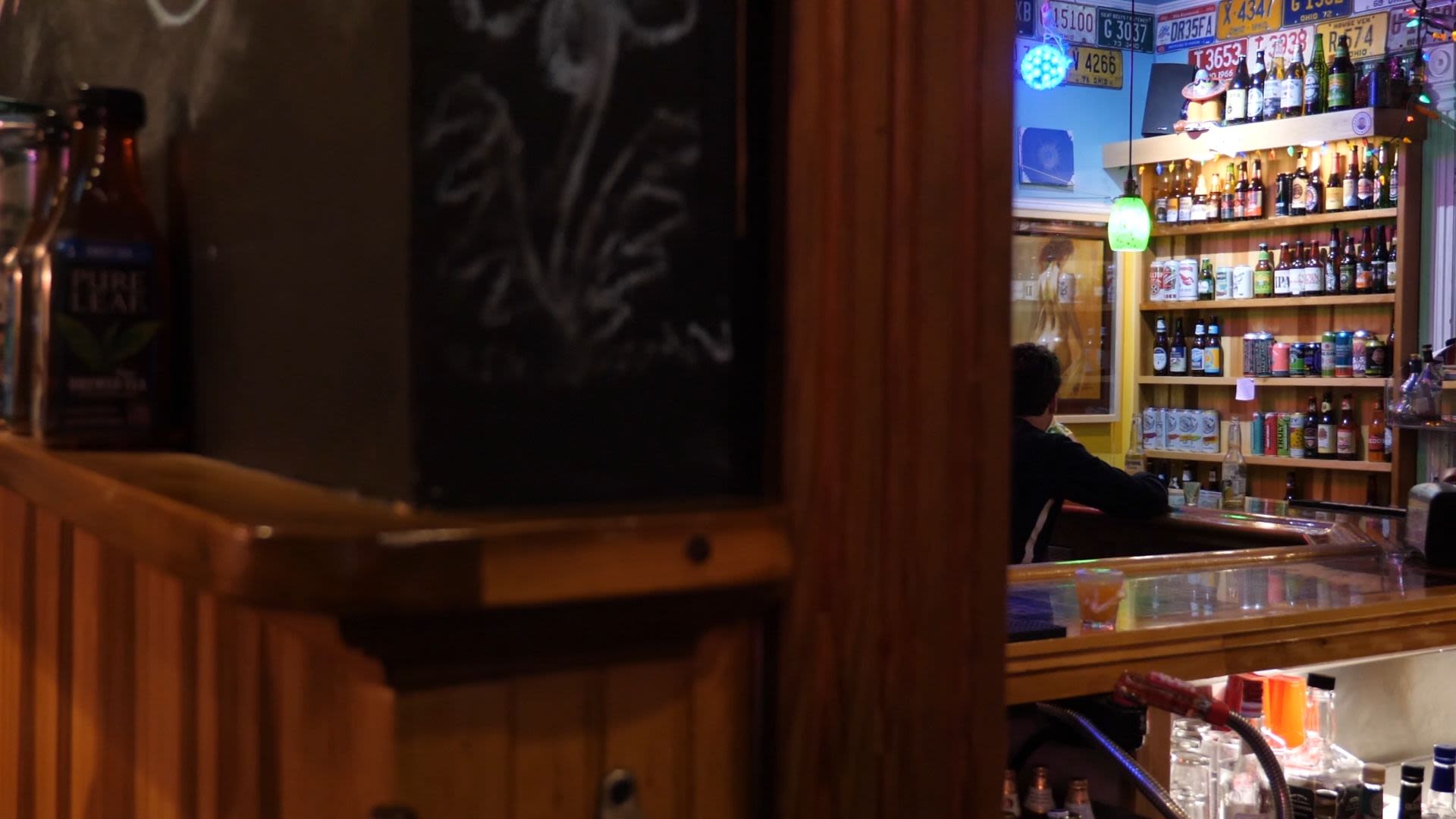 Barb is the co-owner of Taco Dan's with her husband Dan. She's standing behind the bar in a room that's a mishmash of signs, pictures and lights that decorate what at some point was a normal family home. She tucks her shoulder length gray hair behind her ear as she begins to tell a story. 
"The first year we opened there was what was called the Derecho," Barb says. A derecho is a line of thunderstorms that move at fast speeds across land. The June 29, 2012 Derecho started in Indiana and swept into Ohio at speeds of 60 mph and higher. It stopped after reaching Washington D.C., leaving downed trees and powerlines in its wake.
The entire town was left without air conditioning or power for ten days; even the IGA shut down completely, leaving Granville sweaty and starving. 
Barb describes the collective mental state of the town as "near panic." For those ten days, she says, she and Dan cooked day and night, feeding as many people as they could while they waited patiently for the lights to flicker back on and the grocery stores to reopen. 
"Those were the very best times," she says. "You really felt like you were doing good."
Barb grew up north of here in Warren, Ohio. She found Granville through her college roommate who grew up in the town. Before the large party crowd rolls in for the night, Barb is sitting on a stool at the bar. On a typical busy night, she ends her day at about 3 o'clock in the morning.


A half-dozen people enter through the backdoor and stroll by the kitchen and the chalkboard menu of drinks and food. They're decked out in athletic gear: leggings, compression stockings, sneakers and t-shirts. 
They introduce themselves as the Granville Running Club. Some are in their twenties and some are older. They hail from Granville, Newark, and other surrounding towns. Fresh off a good run, they order nachos and quesadillas and file into a blue-lit dining room where they sit at a long table that nearly spans the length of the space. 
A man sitting in a corner calls over and asks if he'll make the front page of the local paper. He's a twentysomething self-described "townie," who frequents Taco Dan's as a way to get out of the house and be around other young people. Describing what he likes to do at Taco Dan's on a typical busy night, he just throws back his head and laughs.
"You'll see," he says.
As it turns out, it's slow and the usual onslaught of college students never happens. That's surprising because Wednesday night is typically a party night for them. Barb warns that students would either start pouring in around 10:45, or they wouldn't. Whispers from the cooks reported that they were in for a slow night. 
Sure enough, 11pm comes and the crowd remains much the same. Apparently a party had been going on campus that was keeping students away.
Barb turns in early, packing up for her nightly walk home just a few short blocks away. She gives a little wave and a smile as she says her goodbyes.
The Townie seems to have found his friends. They pick up pool sticks and start up a game while a couple of older men stand at the bar talking, glancing at highlights from a Bills - Steelers game on Sportscenter. 
The Granville Running Club is still in their spot, a couple of beers at the table. They laugh and  laugh, the neon glow from a Corona sign lights up the room.