Getting the Mail
A Story about Taking Care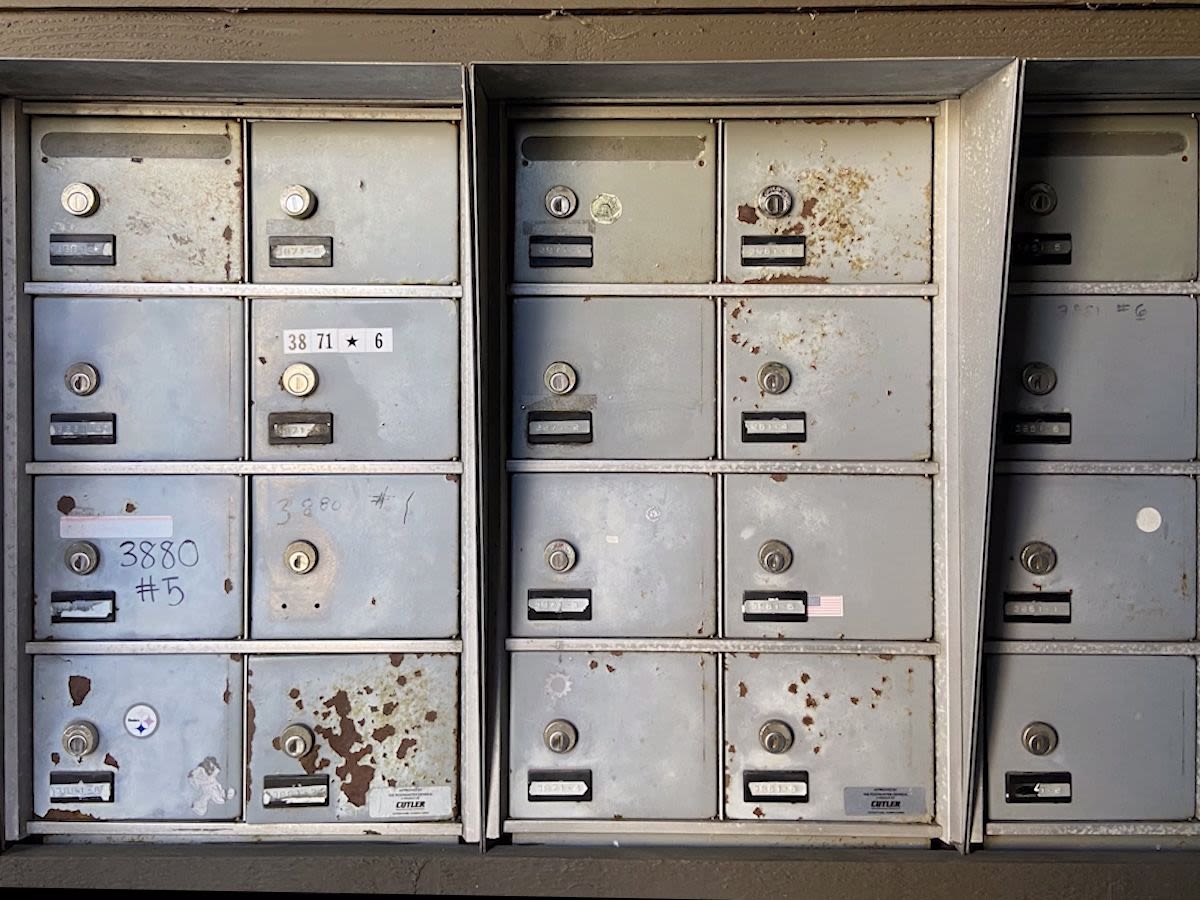 Ring, ring. I picked up my phone to see my Thea's name buzzing.  A photo of us both smiles back at me. "Honey, it's me," said Thea. "Could you please come over and get my mail for me? We could also sit and talk for a while."
"Sure, I can come in around 30 minutes," I said. "Love you and see you soon."
"Thea" is Greek for Aunt.  Fedra Anastasiadis is my Dad's older sister, and also my Godmother.  I just call her Thea.  She lives down the street from my house, so I'm there in no time. At Thea's condominium, the PO boxes aren't connected to the building, and you have to walk to get the mail. Kind of like college, but not as fun. 
I get the mail for her when she isn't up for it. I have my own set of keys to her mailbox and apartment. It's been a routine for the past few years. This day, I'm frustrated. She isn't able to do what she used to, and I really want her to. Her chemotherapy treatments make her nauseous and unable to walk for longer than a few minutes.  But if she doesn't get the mail every once and a while, then she'll never get better.
On top of her treatments, Thea always struggled with her weight. Her love of food was an addiction; she would cook lavish meals, bake cookies and spanakopita, tiropita, and baklava. All traditional Greek recipes, all made with lots and lots of butter and love. Cooking and baking gave her joy, and it was one of her many hobbies. Every holiday season, she would bake for her neighbors, friends, and extended family. Some of my favorite memories with her have been in the kitchen.
I always knew which mailbox was hers because it had a faded Cleveland Indians sticker on it with the now-retired mascot, placed there by the previous tenant. It was so full of mail, I struggled to get everything out. I sighed and slammed the mailbox shut before walking back to her condo.
As I let myself into Thea's place,  her Maltese, Lola, licked my toes through my Chaco's, her tiny paws scratched at my legs. It was unseasonably warm in her condo–Thea doesn't like the cold, and her window sheers were always open. It was the first thing she did every day.
"Come here honey, and give me a hug," she said.
She sat in her usual spot: the center of her couch, with her bad leg propped up. The TV was turned onto the Food Network. Thea's once jet-black curly hair had hints of grey, and some of her hair clumps were scattered around the couch. She still wore her silver hoop earrings, chunky silver rings, black eyeliner and red lipstick – her signature look.
I walked over and crouched down to give her a squeeze. She smelled of lavender and sugar cookies.
The next week she called again. And the week after, and the week after that. Every week, the mailbox was full. Soon, I started to get her groceries, and ran errands for her when I was in town. When I went off to college, there was an unspoken friction between us.  At first I came back for holidays and sometimes during the summer.  Then I tended to avoid being home.  It was easier being away.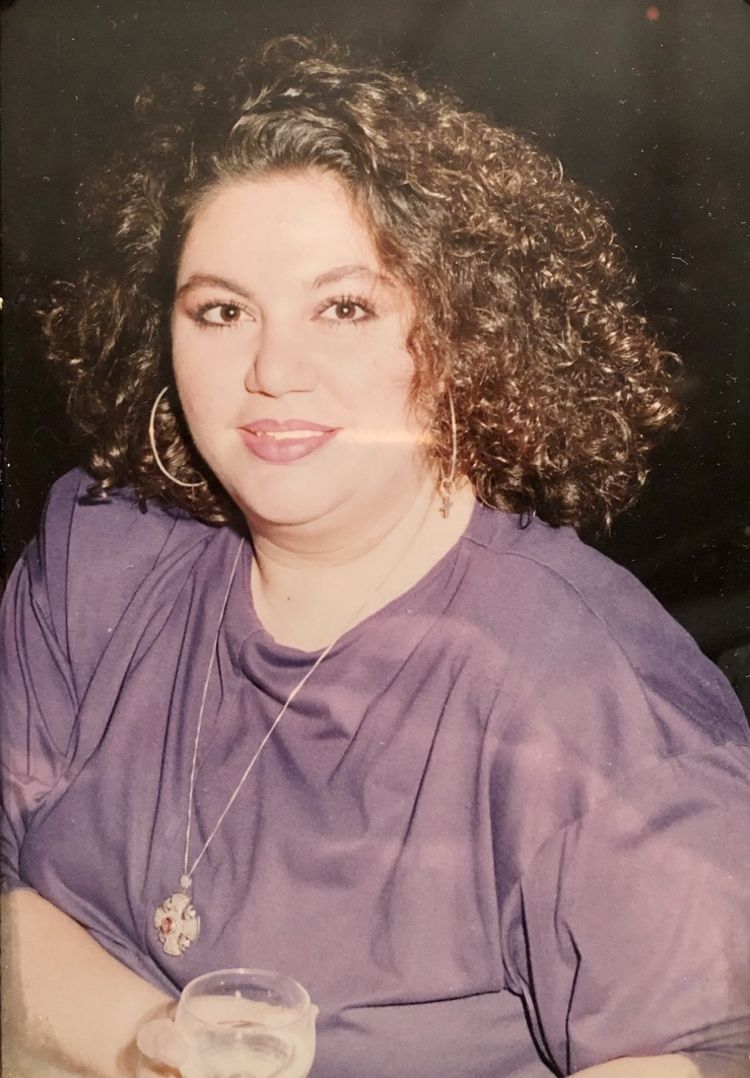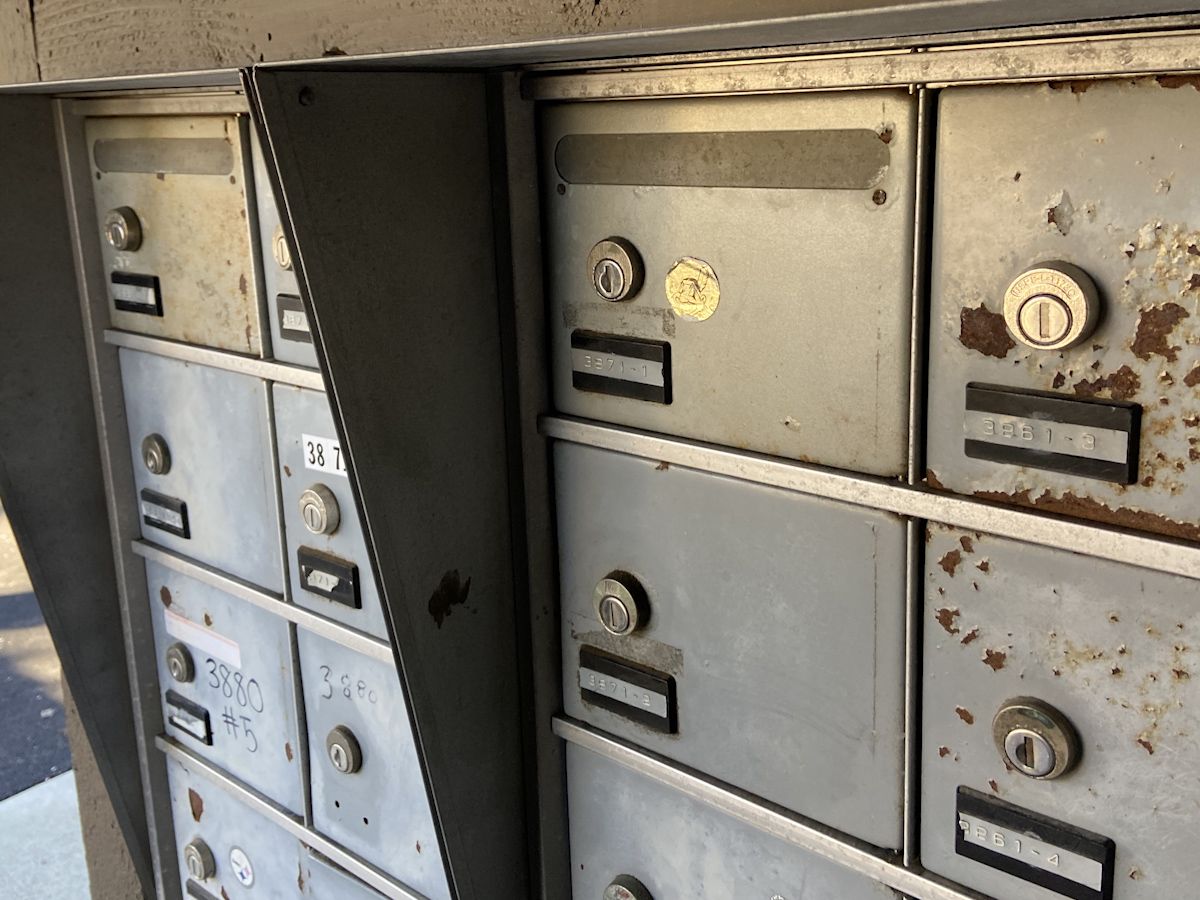 Thea Fedra's best friend was Danielle, who she met around 1992. Danielle is a short, powerful blonde woman with uncontrollable curls. Twenty years old at the time, Danielle was a student at Youngstown State University. 
The first time they went out, they sat at a table across from each other, and it felt like they had known each other forever. They talked about theatre, family, education. Danielle was still living with her mom on the north side of Youngstown. Danielle and her mom had a great relationship, but what Thea gave her was a family that filled the void of her separated family dynamic. She fell in love with the traditions of Thea Fedra's family, faith, and community that our household represented. 
When Thea moved to NYC in 1994, they weren't in touch as often, but the friendship didn't change. When Papou got sick, it was getting more difficult to stay away, so Thea made the decision to come back to Ohio and take care of him. 
Danielle calls herself a self-made woman. An avid Virgo, she's always been intuitive to how others feel and act around her. Born in California and raised in Jamaica. Danielle said that "No one has given me a dollar toward college, a car, or anything in my life," but she says she wouldn't be where she is without her mom. If she doesn't work hard, Danielle feels like she might fail. Maybe it's just the fallout of being raised by a mother who suffered devastating personal losses in Jamaica, but there's a perspective that she always has to be the one that keeps on working harder than everyone else. 
Out of pure generosity, she offered to provide for Thea once she was diagnosed. To Danielle, Thea saved her in ways that money never could: by being a friend that called her every morning, her support, and essentially, a sister. That, to her, is what's most important about her connection with Thea. 
"Fedra was one of the most emotionally mature people I've ever met. You could tell that she cared by the way that she spoke, how she was never judgmental," Danielle said to me over the phone. Her voice cracked, and it sounded like she was moving around – she likes to be busy. 
When Thea was healthier, Danielle, Thea and I would go on adventures together around the city. From going to the grocery store, to grabbing lunch at Panera, visiting Thea Evangelia, and just sitting down to watch bad romantic comedies together, it was always filled with small gatherings with relatives around town, wine, and inside jokes.
As time went on, the visits and adventures would still be fun, but increasingly more difficult.   Thea would often have multiple caretakers in town, but when Danielle came, she wouldn't let Thea lift a finger to do anything. She became her best friend, caretaker, and one of the people Thea turned to for financial support simultaneously. 
The hardest part, Danielle recalls, was no longer being able to do the little things together. Thea's treatment went on for years, with pockets of hope mixed in. In 2018, there were a few months where she believed she was cancer free, and she halted her chemotherapy. However, a pet scan unearthed cancerous tumors in her lungs by the end of the year. By then her options were reduced to two: sit in despair, or try two experimental clinical trials.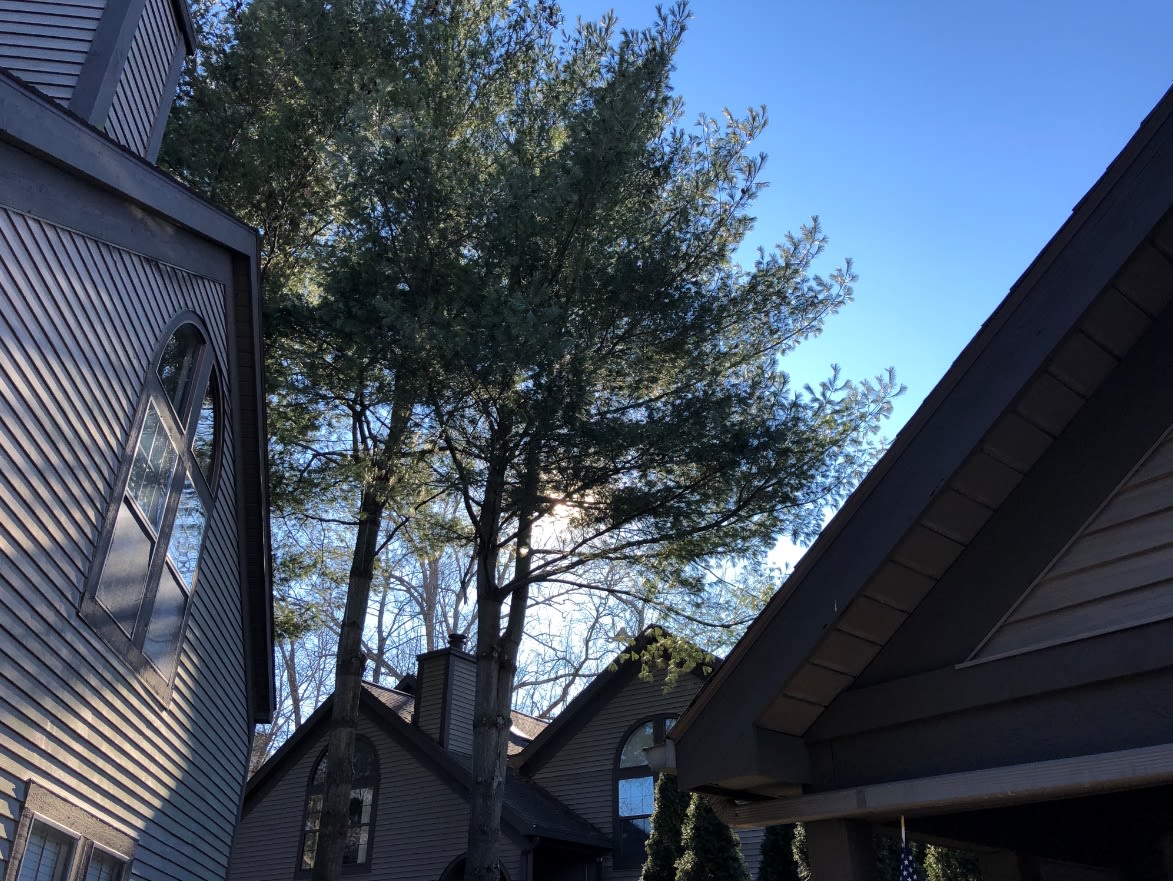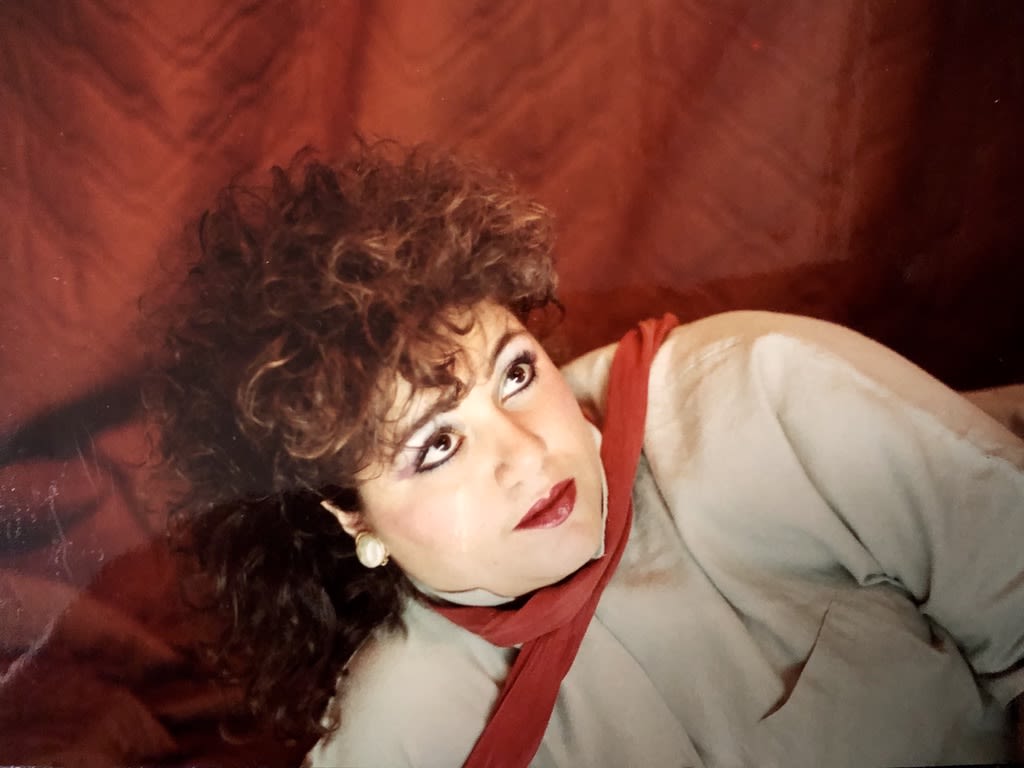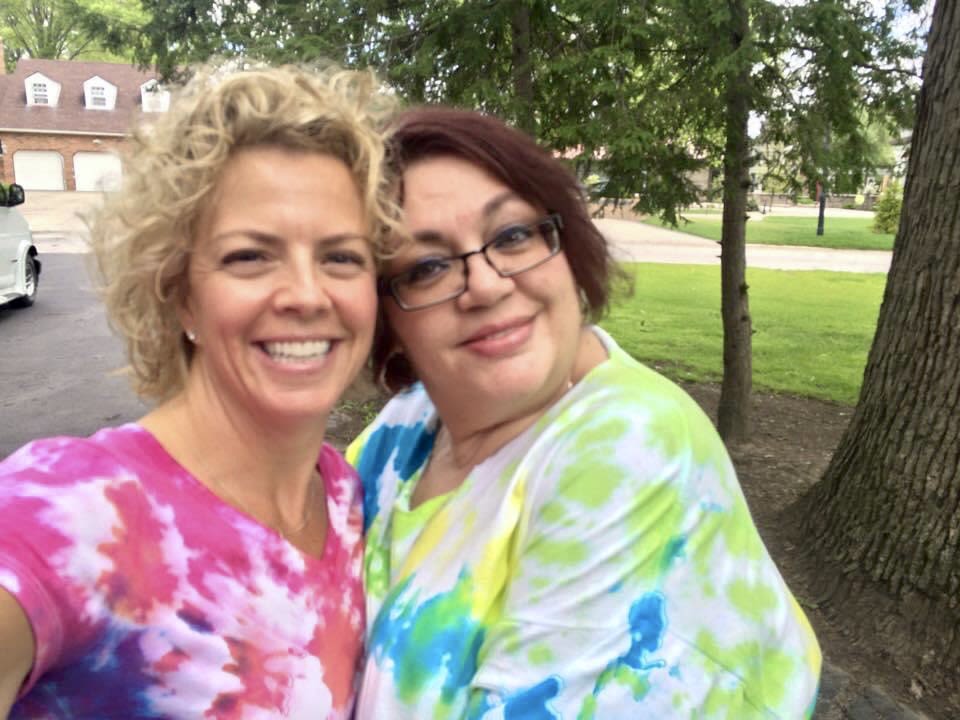 There's a trope in the cancer community called "the last good day." The victim of cancer has suddenly plateaued, the pain is bearable. Thea, over time, couldn't do those errands, go on short adventures to the mall or the graveyard to visit Papou with a bouquet of flowers. December 31, 2016 would be one of Thea's last good days. 
It was the night of our family's annual New Year's Eve party, and Thea was able to walk around, laugh loudly – she was the life of the party – and Danielle was her partner in crime. Dressed in a black festive glimmering button up shirt, silver dangle earrings, her rings, plain black slacks, and red sequin slippers: Thea sparkled. Her hair, still short with ringlet curls, was dyed a dark indigo that was only seen when the light hit it just right., Her first request upon arrival: to have some wine and ouzo together. 
The next morning, the sun came up and Thea uncovered a remnant of the festivities from the night before: a lone, red sequin slipper forgotten in the parking lot of her condominium. 
The earth continued to rotate into another year, and Thea was still alive. 
Soon, we found that her clinical trials weren't working. I was studying abroad in Prague, Czech Republic during Spring 2020, sitting in the kitchen of my apartment when I got a FaceTime from her. She was beside herself with tears, and she apologized. I asked her, "Why are you sorry? You did everything that you could do. I'm so proud of you." Conflicted about my decision to be so far away from her in the first place, I asked her if she wanted me to come home,  but she still reassured me that she wanted me to stay. A month later, the coronavirus pandemic sent me home into quarantine. I was sad but also relieved that I could see her again.
One of the last days we spent lying together in her bed talking and listening to Moonlight Sonata (third movement), the Phantom of the Opera soundtrack. We lay in bed, and Lola went to sit at our feet. As we closed our eyes, Thea hummed the chorus of "Angel of Music" as we drifted off to sleep.
A few months later, on  a random Sunday in July 2020, the sun was shining, a clear sky: the perfect day for driving. I got a call from Danielle; she said to come quickly, that Thea's waiting. 
I broke some traffic rules, and almost hit a pedestrian on the way to Thea's parking lot. My car had barely turned off before I slung my seatbelt off so harshly that it got stuck in my door when I slammed it shut. Danielle was waiting outside, pacing and staring at her phone. I could almost see the time Thea had left ticking in her head. The timer didn't have too many seconds left. 
Thea was lying on a hospital bed that had invaded her room, unable to have full conversations anymore. She barely even recognized me before passing out from the pain. Her eyes were glossed over; as the hospice caretakers injected morphine into her mouth. It dripped slowly down her esophagus, but she could only gag at the taste without being able to swallow any water to wash it down. 
Her breaths pumped by the ventilator were harsh; they sounded wet and dry at the same time. Like someone was rubbing broken glass on the inside of her throat, and all she could breathe was blood. 
Two days later, on the morning of Tuesday, July 14, 2020, Thea passed away at the Hospice House in Poland, Ohio. Cancer had metastasized to her lungs, and her entire body. She was with Danielle and her brother, and lifelong friend, Graham. Thea was 56 years old. 
About four months later, my college roommate, Bella, was nervous about her upcoming surgery. My Thea had passed away, but I still thought about her daily. 
During Bella's freshman year at Denison, she was diagnosed with thyroid cancer. In the same year, she had to get her thyroid removed, and now has to take a hormonal medicine daily. Around the time of Thea's passing, Bella had been told that her own cancer had metastasized to a different part of her throat and that to remove the cancerous cells, she had to undergo surgery. The shared trial of cancer created a connection between us as Bella and I bonded over stories of Fedra's resilience and optimistic attitude despite the odds stacked against her. 
Fedra loved jewelry. Once she passed, I inherited a lot of her old necklaces, rings, earrings, broaches, and headbands. Almost all silver, I wear them often to remind myself of her presence. One ring in particular doesn't fit, but I took it with me to college anyway. 
Before Bella went back home for the semester, I gifted her with the small, circular ring. I told her that it was for her protection, and that Thea's spirit wouldbe with her during this difficult time. I wanted to stress the importance of small acts of kindness – and how far of a reach they have. That is Thea's true legacy. 
During Thea's funeral, Father Kosta said that "you could feel her presence when she walked into a room. She touched the hearts of people she never met, and never let her struggle make her bitter. She was beloved by all." Amidst the repercussions of the COVID-19 pandemic, these words felt truer than ever. The need for empathy during the hardest moments are what keeps people alive. 
I would give anything to be able to complain about getting her mail again. In that moment, as Father finished his speech, Danielle and I were seated next to each other in the church pew, near the front. Although her mask hid half of her face, we looked into each other's eyes and came to a mutual understanding: we would take care of each other and call each other often. Caregivers, although exhausted after providing, feel the loss the most deeply. 
Before they lowered her into the ground, I placed peacock feathers onto her casket. It was Thea's favorite bird. In Greek mythology, the peacock tail means "the eye of the stars."
Later that night, I went on top of the parking garage in downtown Warren with my younger brother, Chris. The silence was too heavy, so he got his cell phone out to play some music. One of the songs that Thea could sing well was "Sweet and Simple" by Journey. The piano crescendo was accompanied by a slow, rhythmic guitar.
The lyrics moved us from beginning to end: Try and keep it simple / Not too far away / Moving slow, so simple / Never felt this way… When the song broke into the chorus, Thea would belt the notes out loudly. Don't be lonely / No, no, no, forget the past / Sweet as sugar / When you're moving slow.
As the clock tower of town hall glowed down on us, we looked to the stars on that clear summer evening, and we knew that Thea looked back at us, not too far away.