who's gonna pay for all this?
if conservation was a failed experiment, this is what environmentalism looks like on a college campus today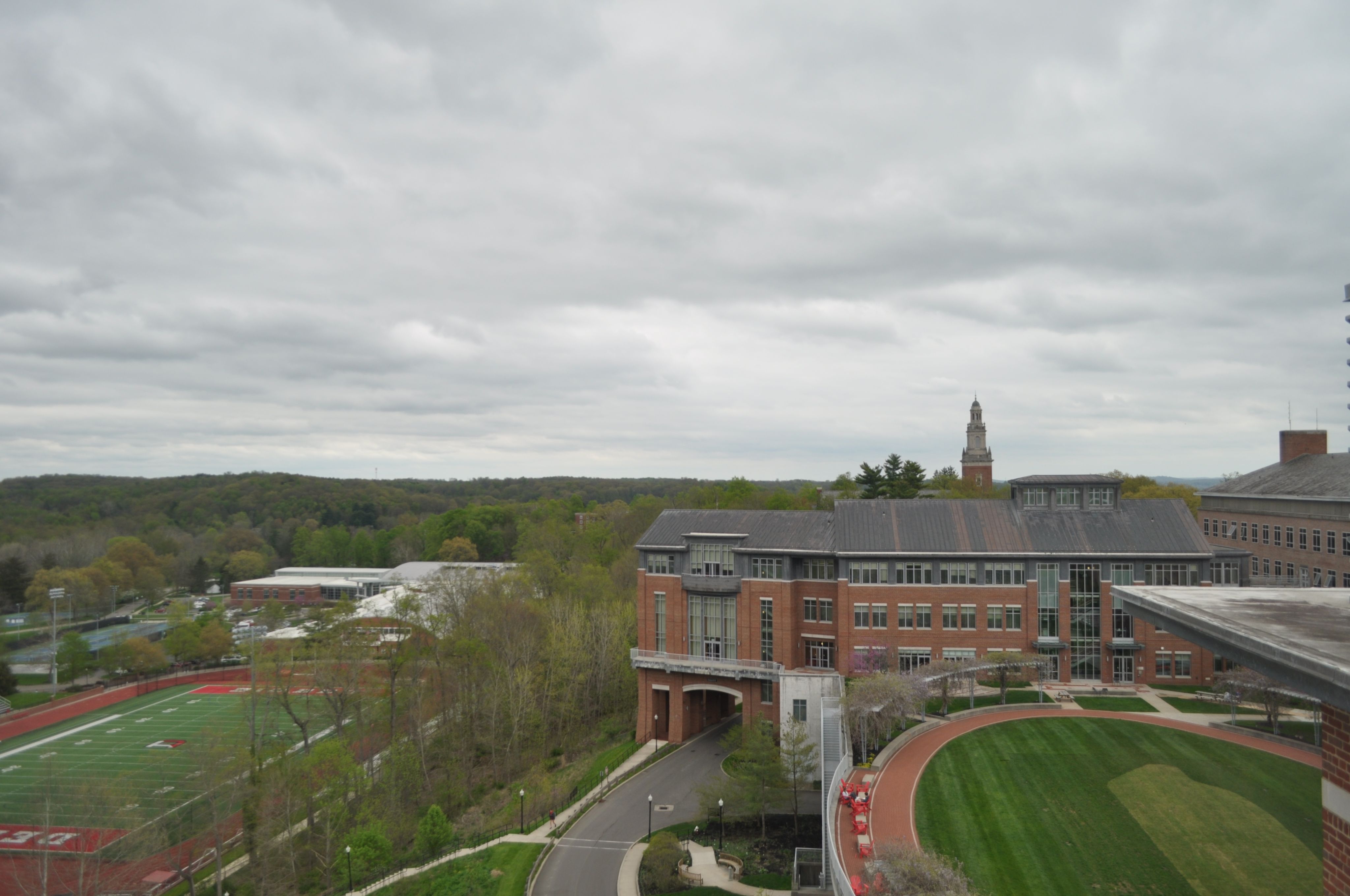 Why do we need these cups? In this audio story, I discuss a party staple with my college fraternity. It turns out that everyone really likes to party using solo cups, but it might be time to start thinking about the way we approach single-use accessories.
In "your cup," Dr. Jeremy King, Director of Sustainability and native of Granville, Ohio, provides expertise on plastic recycling and the keys to enact change.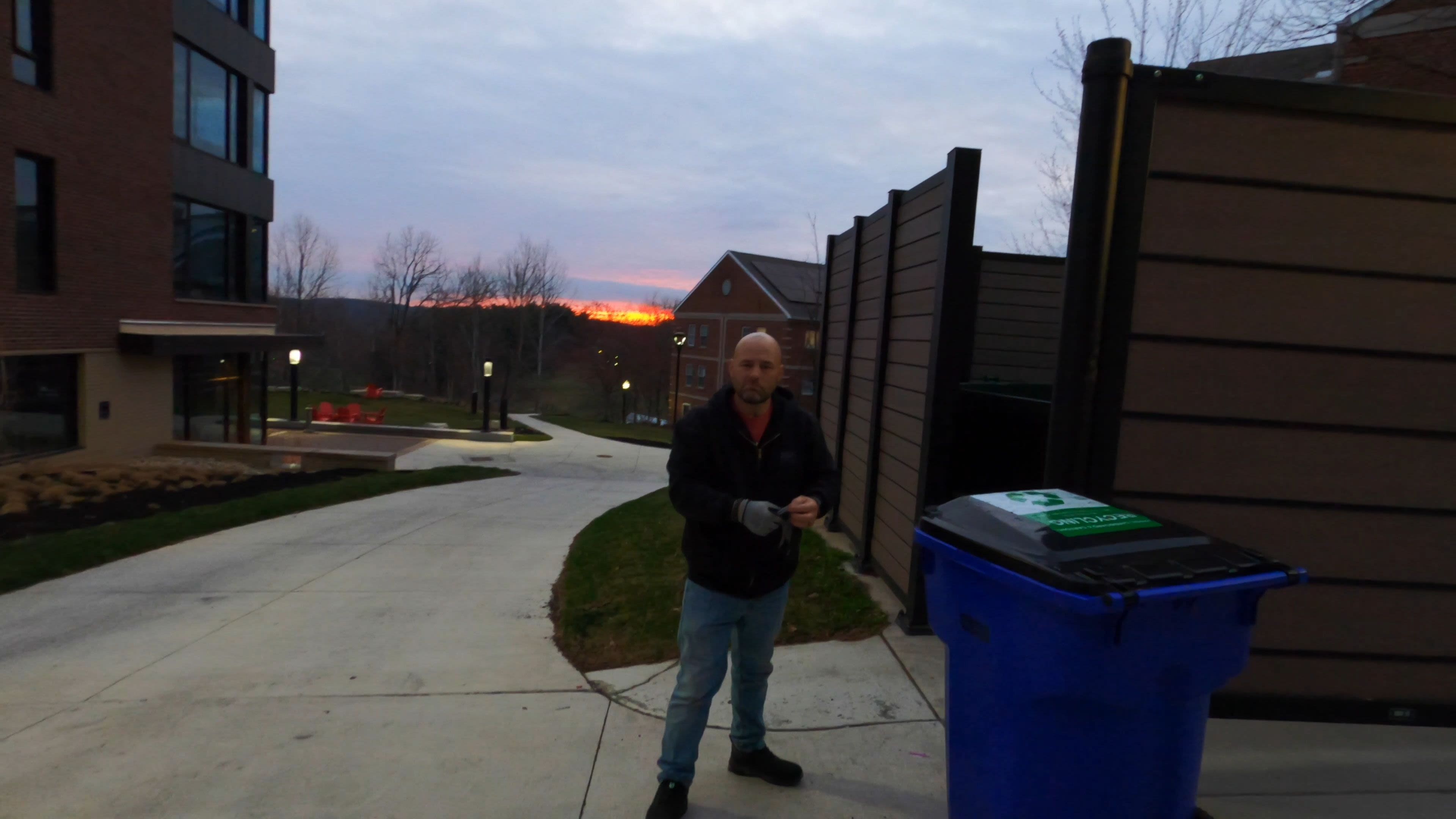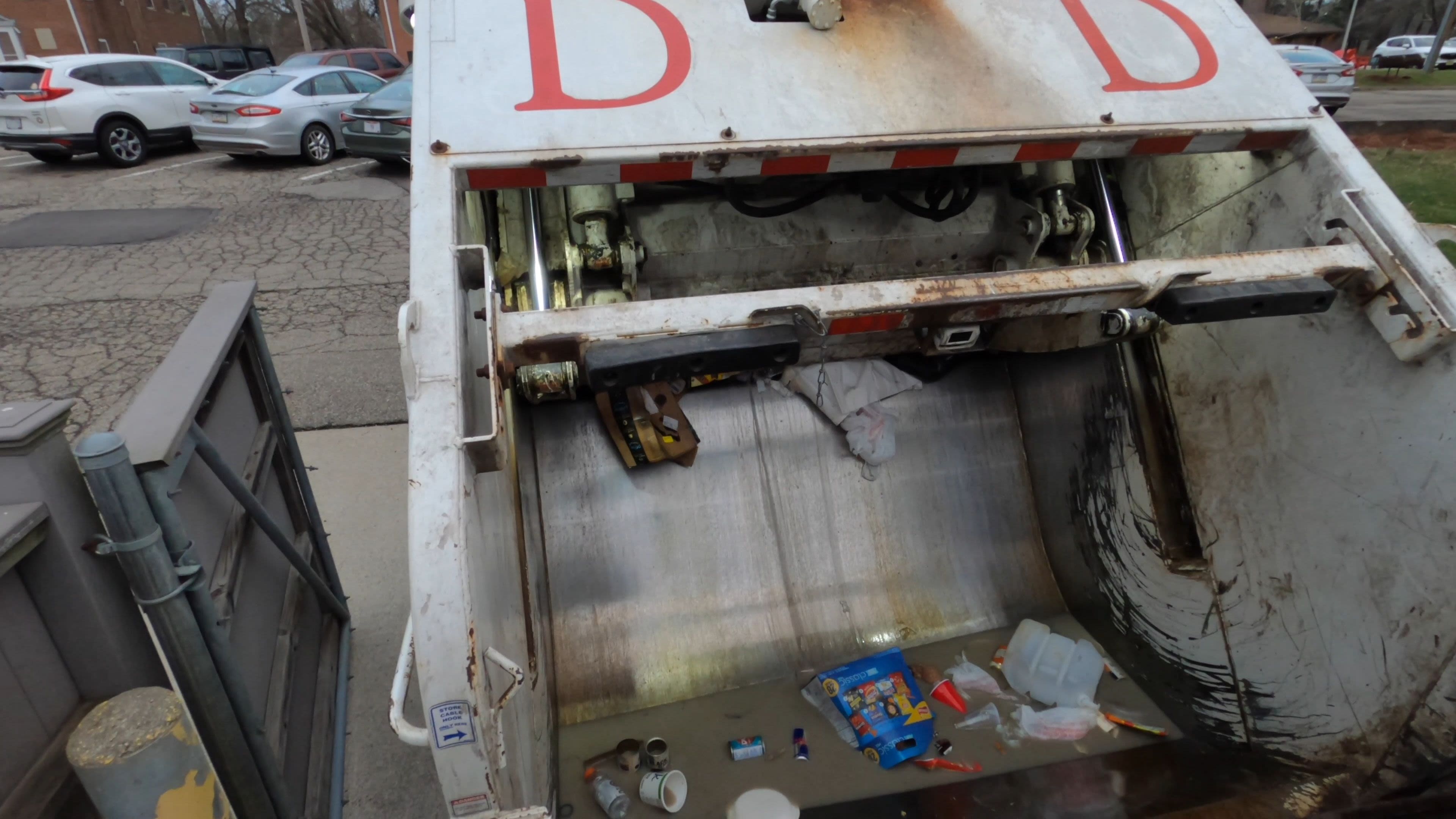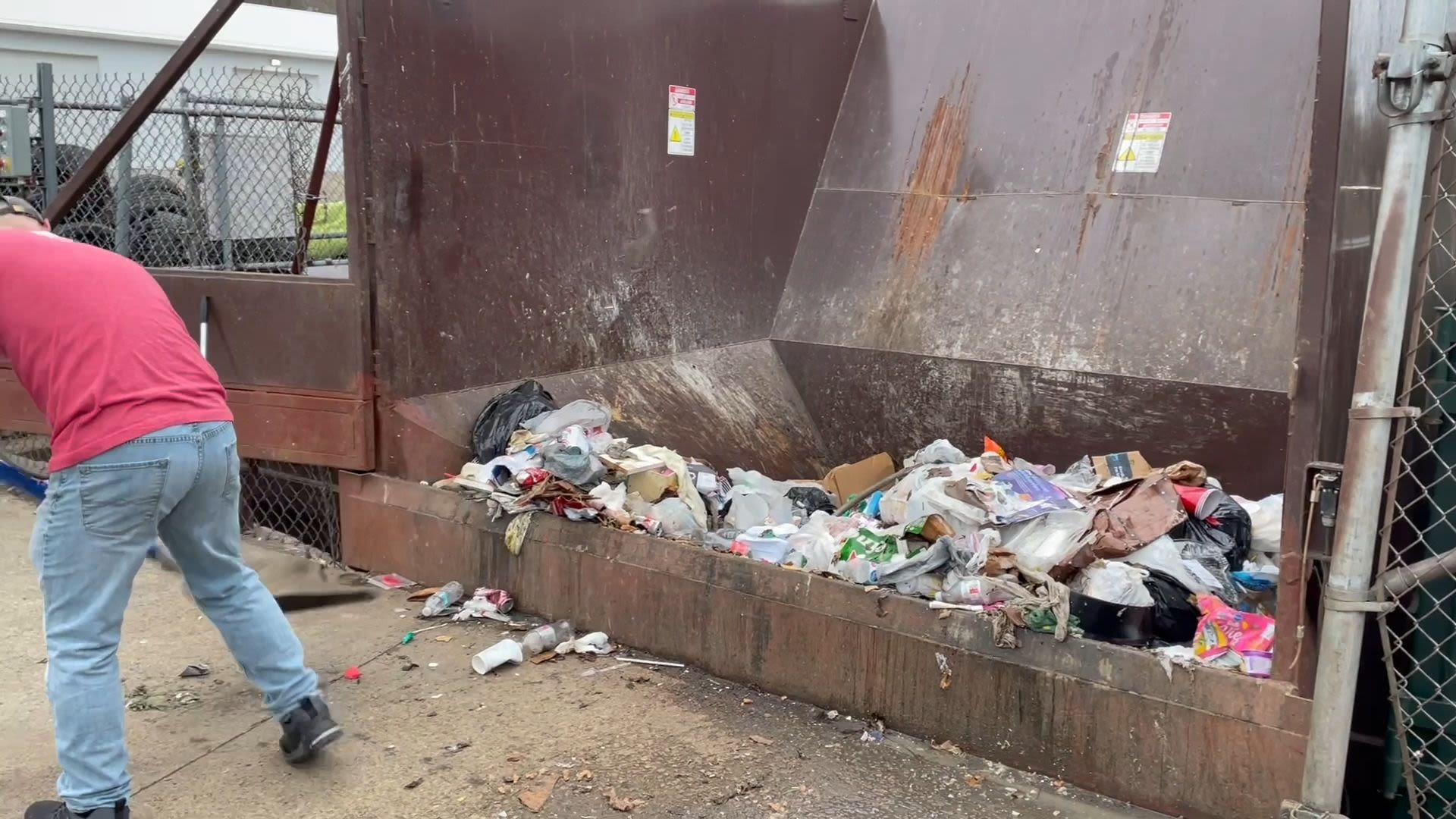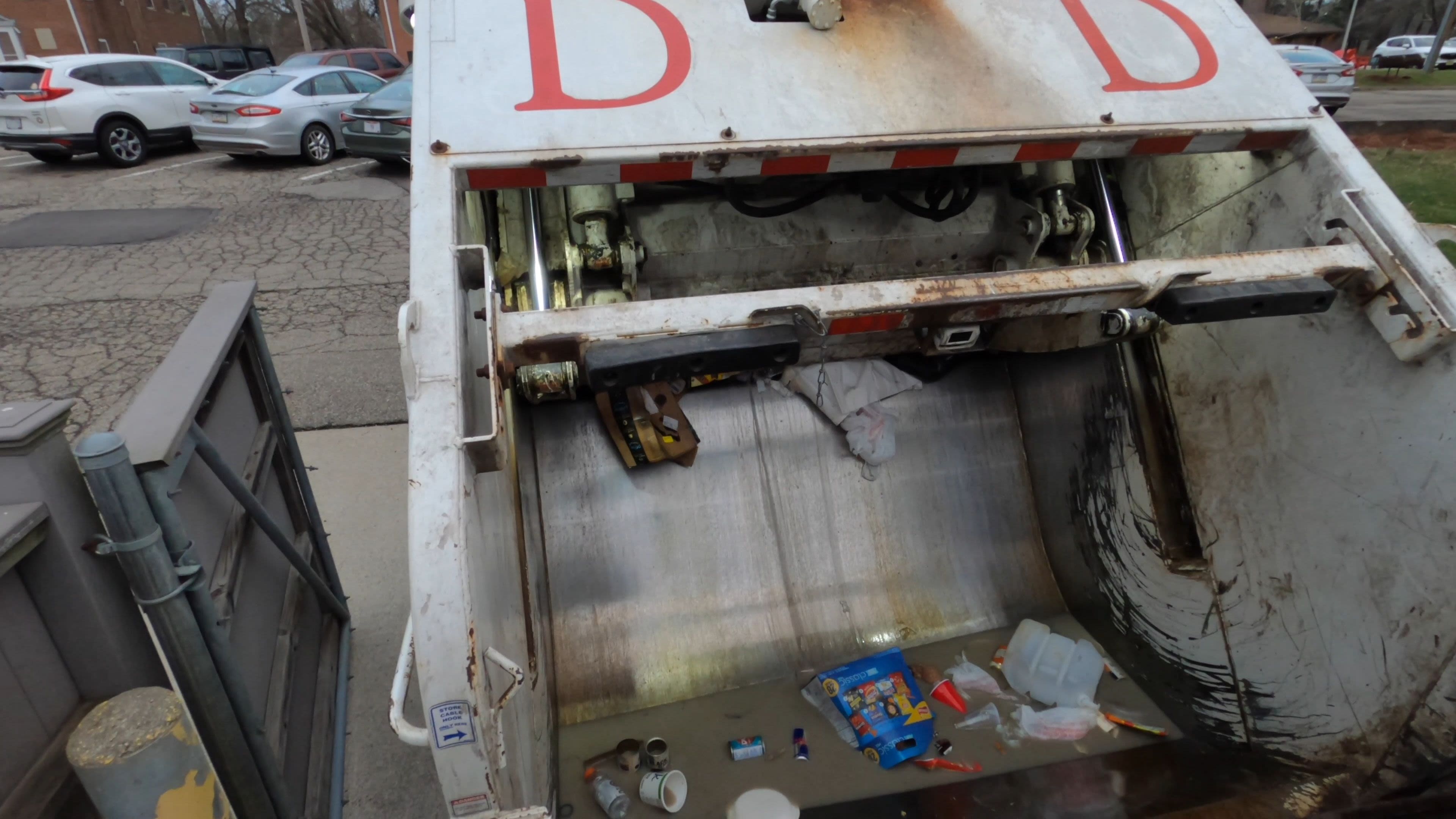 Trash collection is one overlooked part of college life – maybe American life in general. Most students consume, throw away, and go on thinking, it's not my problem anymore. But who's problem is it?

In this mini-doc, Shawn Williamson shows us the other side of the dumpster. it's just a matter of how much tragedy we're willing to accept
during a walk and talk with Dr. Joe, he explains the certain climate tragedy and the persistent misconceptions that we're anywhere near a solution
"Conservation was a failed experiment," said the man known as Dr. Joe, leaning back in his chair in a small office beneath the vibrant colors of a rainbow drawn by his 6-year-old daughter, Clara. "It was a nice idea as an experiment, and then it failed."
I walked into Denison University's Ebaugh Laboratories and introduced myself to this professor of biochemistry, chemistry, and environmental studies, leading with my curiosity on waste and climate change. Seconds into our conversation, he warned that he does not have an "off-switch," and then asked how much of the truth I wanted to hear.
"And not just failed, like, 'I got a 60,'" he said, using an exam score in classroom terms to represent the global response to climate change since the 1980s.
"No, this is like, 'I got a 2.'"
In the first 10 minutes of my acquaintance with Dr. Joe Reczek, he had already asked numerous times if I'd still like to speak with him, perhaps accustomed to his audience losing interest, losing trust, after he says something like, "the only net-positive impact of recycling plastic is the feeling of accomplishment to the consumer."
"How much do you want to know?" he asked, and I asked for everything he could tell me.
"You want to make a difference on this campus?" he asked.
"Stop recycling," he answered. "Next time you finish a plastic bottle, don't recycle it. Instead, just throw it in the trash."
Dr. Joe believes in fundamentally replacing infrastructure. He's certain that innovation in materials chemistry will make or break human efforts against climate change; we must use it to rebuild global industries on molecules that are significantly more efficient. Viewing the world through an electron microscope, he insists on the same efficiency from each microscopic human actor.
"Throw that plastic bottle in the trash," he suggested, "because recycling isn't going to stop climate change. Then pull out your phone to email [Denison's] President [Adam] Weinberg and tell him we need to prioritize energy efficiency."
He speaks with brutal honesty, but also without fear, convinced that we will not reach the rapidly approaching off-ramp by incrementally inching across the highway; instead, it will require an aggressive swerve across three lanes.
"And next time you throw your bottle in the trash, text David English, Denison's CFO. Tell him it's time to invest in solar energy."
The wall outside Dr. Joe's office is covered with his published research, a checkerboard of stapled packets thumbtacked at the top left corner. To the left of all that science, the standard label: Room #207, Joe Reczek, Ph.D., Chemistry & Biochemistry.
That must be too formal on its own, because right above the name-tag are two oversaturated photographs showing the letters: DR and JOE. Above, he carefully taped the perimeter of a photograph: six of his summer research students wear matching T-shirts, posing behind Dr. Joe as he sits in a meditative, cross-legged pose with a stern look of confidence.
Ohmmmmmmmmm.
Then there's a printout titled: "a practical guide to becoming a true pun master."
Before ever knocking on his door, strangers might notice the faded highlighter smudging the print which says, the true nature of a good pun is to be so terrible that it becomes good, and to ALWAYS laugh at your own puns.
Visitors might be drawn to the photo of Dr. Joe holding a young girl on his shoulders, printed on the flier titled "prioritizing wellness."
Sometimes (and not rarely) stuff I really want to do or accomplish just doesn't get done, he wrote beneath the photo.
I feel like I let others, and especially myself, down. I'm hard on myself, and I doubt myself.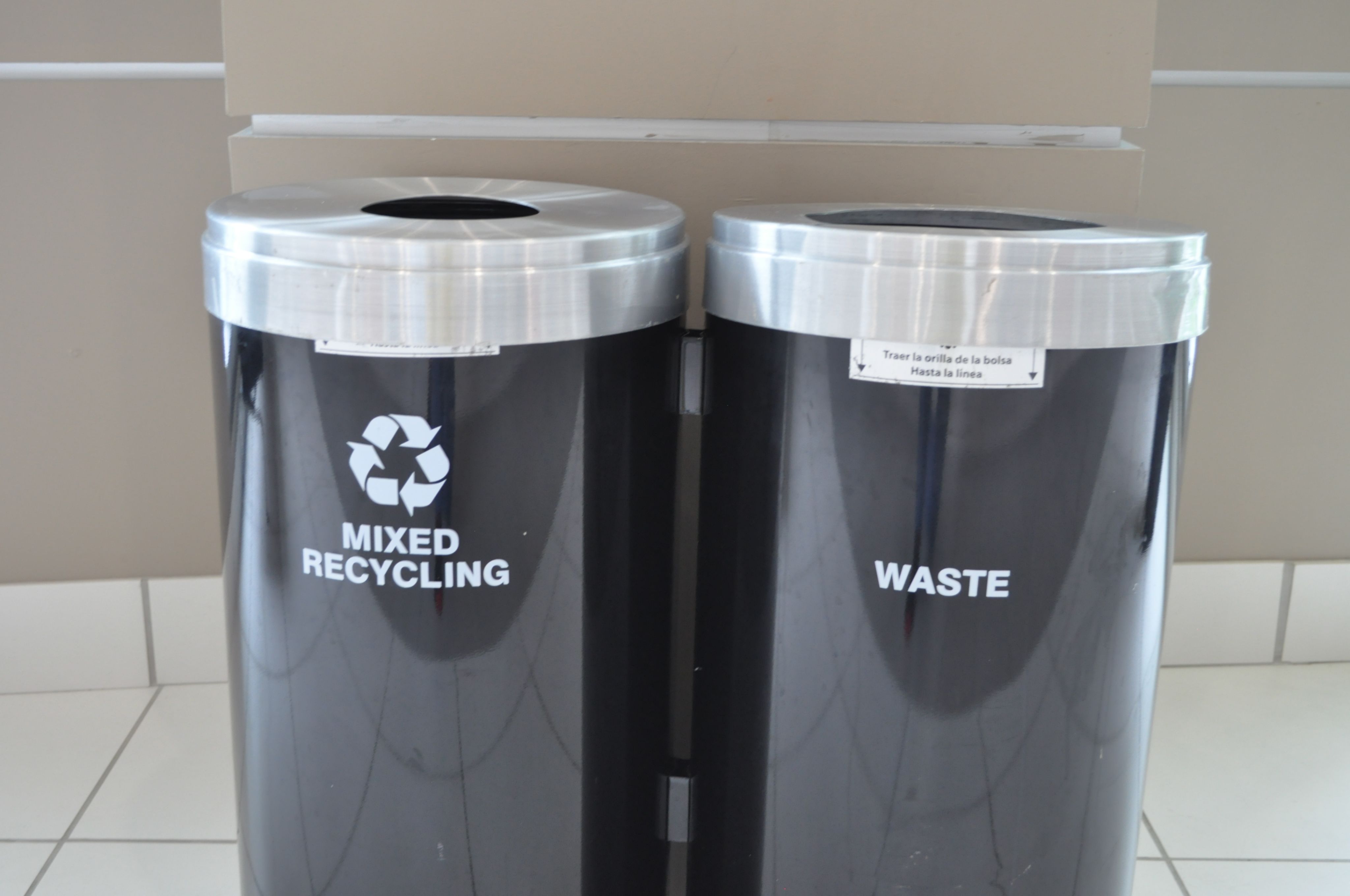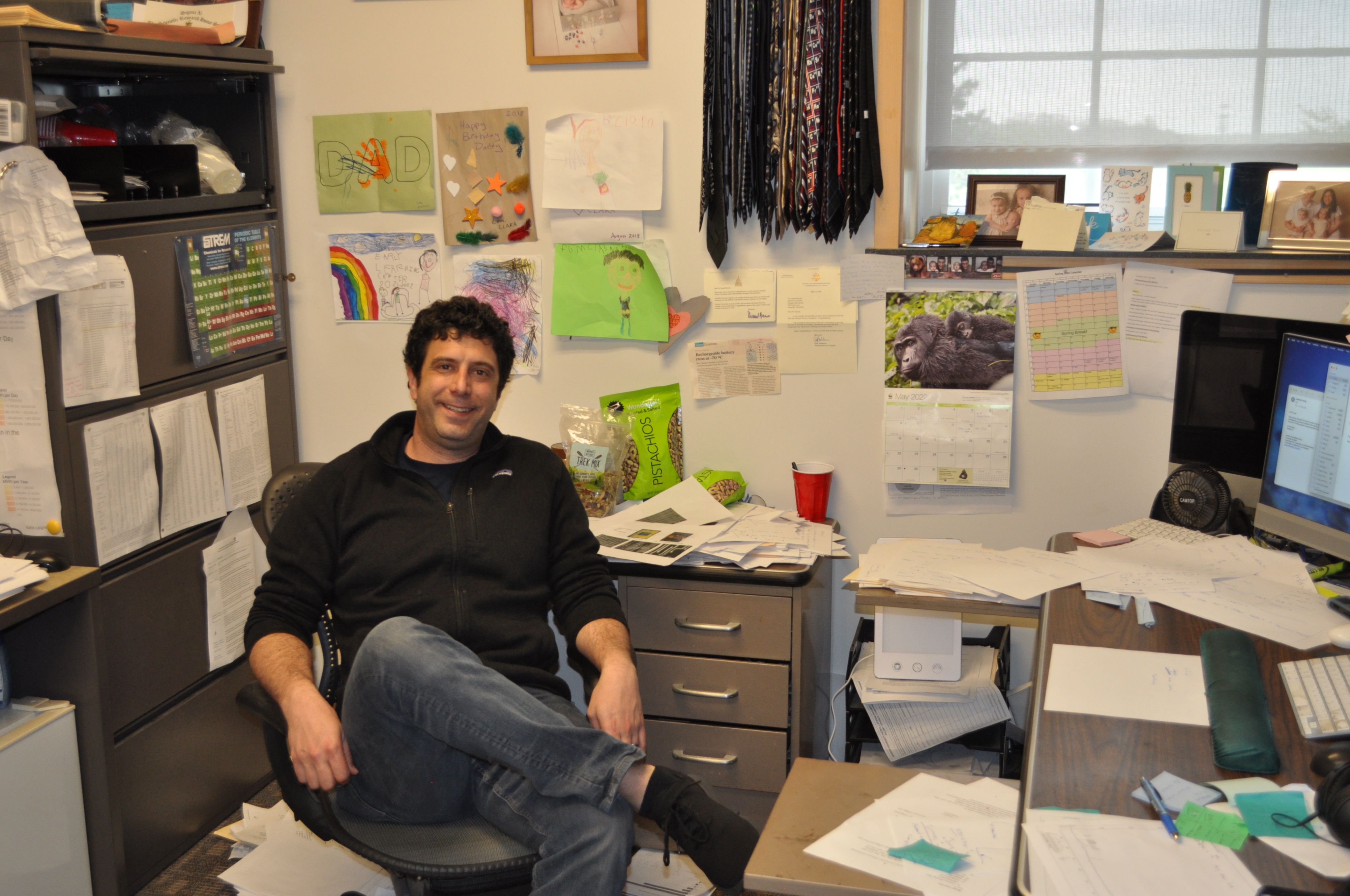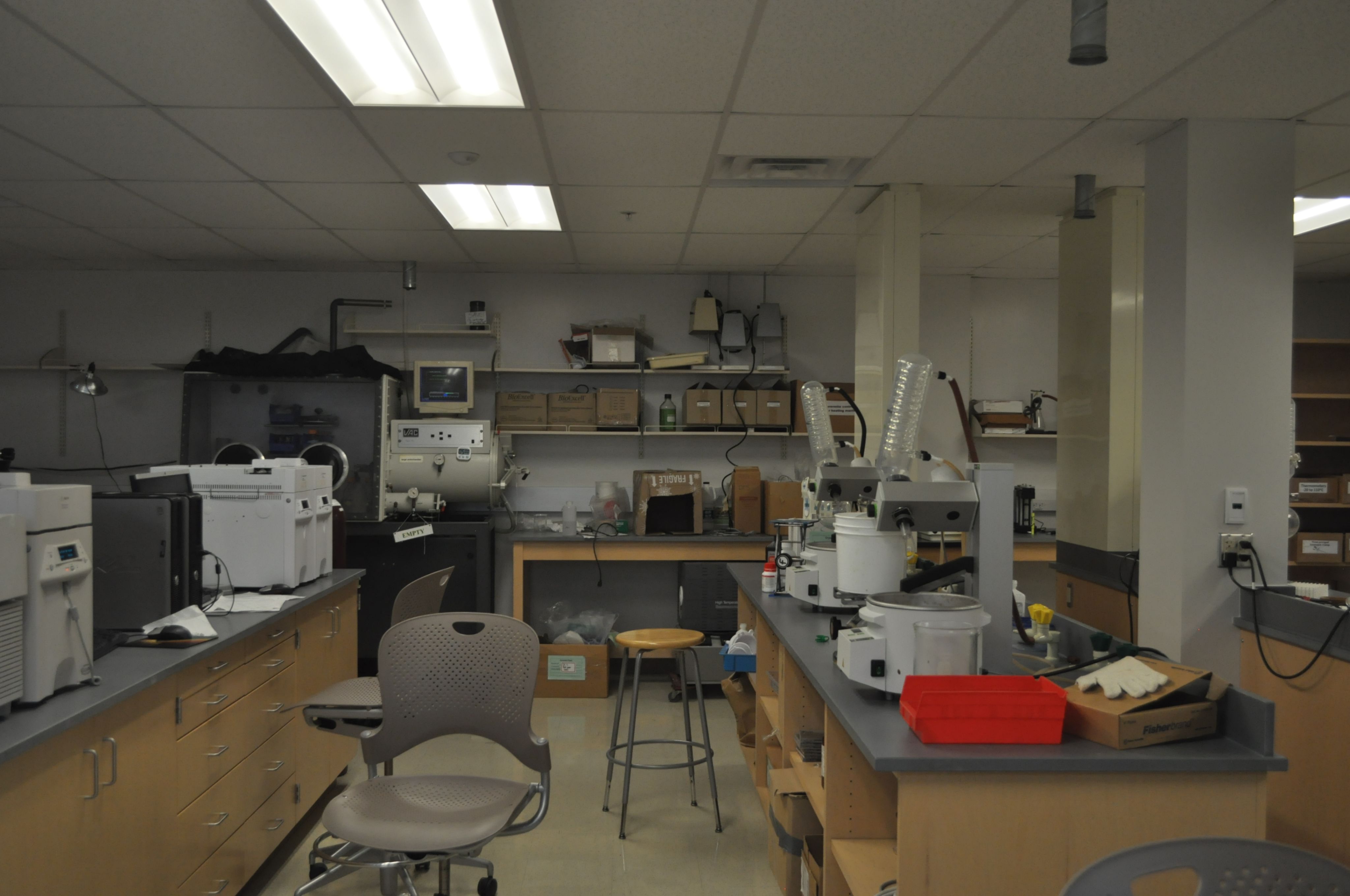 Dr. Joe grew up playing video games, in particular, games in which he could save the world and commit other heroic acts.
"I think that [heroism] really got ingrained in my psyche somewhere," he said. "It's not always healthy."
But that's what made chemistry appealing. He likes creating things, inventing, innovating, and solving big problems. He wanted to learn how things work, and manipulate those things to help solve problems. Big problems, like societal over-dependence on fossil fuels and other industrial materials that are inextricable from carbon emissions.
He became an expert in, as he explained it, "certain types of molecules which could stack or self-assemble on each other and had two interesting properties."
The first one: they absorb visible light.
The second one: They could serve as "little molecular wires, to move charges and electrons in one direction."
That jargon matters because Dr. Joe Reczek cares about what he calls the impending climate tragedy. He thought his molecular research could make solar energy more efficient.
"If you want to make a society that is more sustainable in materials and energy usage, you have to make energy and materials themselves more sustainable, in my opinion," said Dr. Joe. "Yeah, if I can make electronics that are one-fifth of the weight, and can do the same amount of function at one-tenth of the cost, then I just slashed one of the major economic and sustainability issues of our time, and improved that by 90%. That's a game changer."
Reczek went to graduate school and learned about some new fundamental materials, then did postdoctoral research at Trinity University in Texas. Then he decided he didn't want to be around the high-pressure, unexcited environment of grad school anymore.
"Undergraduate students are so … naïve, in a good way," he said, quickly recovering to avoid insulting this undergraduate reporter. He added that graduate students are "beaten down."
"In undergrad, you still have this hopeful vision of what can be accomplished," he said. "And I agree with that vision, and I think most people wind up having it again. But I want to work with undergraduates who are bright-eyed and ambitious, and are going to graduate and be excited to go on."
Dr. Joe chose to teach at a small liberal arts college where he could focus on building lasting foundations for students while making a genuine impact on Denison's small community. He acknowledges that by coming here, a chemist likely gives up on becoming a leading researcher. He said he does high quality research at 1/10 the pace of any major research institution with graduate students and postdocs. And he believes in the value of doing high-quality, genuine research at an undergraduate-only institution.
"So here I am," he said, at an undergraduate college of 2,300 where a curious non-STEM student could knock on his office door.
"And here we go," he said, having carved time out around lunch before final exams and scheduled a discussion with me.
"Ready to walk?"
[continued below]
Dr. Joe demonstrates a solar-powered tennis ball cannon at a science exhibit in Newark, Ohio
[continued]
The sun was bright, but the late April wind cut the temperature and added an element of chaos as leaves rustled and Dr. Joe shouted over gusting wind.
"We've done amazing things with fossil fuels," he said. "It's crazy, you go back 200 years, and the quality of life we have developed is astounding. I think that's important to recognize, but now we've got another problem to fix."
The only way to separate carbon emissions from prior decades of industry, according to Dr. Joe, is to "slide in an alternative."
When they plug in their hair dryer, or turn on their TV, the end-user – the consumer – shouldn't notice anything different. But Dr. Joe imagines the electrons that are powering those devices coming from a completely different and more sustainable source, rewiring consumer goods, industrial factors of production, and the foundations of the future.
"The Trojan Horse of sustainability is materials chemistry," he said.
We looped through a downtown neighborhood, before climbing back up the hill to Denison's windy campus. As we orbited the academic quad, Dr. Joe seemed to constantly weigh the progress and life of this conversation against our heading. A few times, we began our approach to Ebaugh Laboratories, only for Dr. Joe to steer us away, as if he still had something left to say.
[continued below]
He's a chemist working to drive significant change, which he sees as long overdue. He faces pervasive barriers, constant misunderstandings and road blocks stemming from "out-of-date" beliefs held by people even with the best intentions. Although recycling, planting trees, composting, taking cold showers, and cutting out beef consumption are popular individual efforts, he says they should not be viewed as "licensing" – a license to ignore innovative climate change issues, a license for individuals to feel they've done "enough." Yet, since the 1980s, when this 'great failure of conservation' began, Dr. Joe argues that those small actions seem to have enabled more significant complacency – we think we are doing enough, and then stop trying.
Scientists constantly discover new truths which reveal why an old "solution" isn't actually getting at the root of CO2 emissions. But the "old dogma" is often so hard-wired that Dr. Joe can't convince an audience that they shouldn't bother to recycle plastic, or help them understand that when trees die, they release back into the atmosphere most of the CO2 they previously offset.
"Over time, you build up the actual impact of these actions in your head, to a place that isn't accurate. Then, you're not correctly prioritizing where you put your efforts."
"You have to hit the reset button," he said.
It's difficult for such a passionate educator – one without an "off switch" – to navigate disagreements on this particular topic.
"Usually what happens is you get angry, you throw up your hands, you call them an idiot, and you keep doing what you're doing," he admitted. "And I don't want to do that either, right?"
That's not to mention his approach toward those who deny climate change. It's frustrating, for Dr. Reczek, as an expert who feels like most of the world won't listen; like he knows how to avert this tragedy, but doesn't have a moment to waste and yet, so many members of his community – university faculty and administrators, students, and local leaders – are not as concerned.
He recognizes these tall hurdles of behavioral psychology and bias; he's married to a consumer psychologist and constantly learns from her work around the conscious and subconscious factors of decision-making.
He still believes in the power of the sun, and the power of humans to harness its energy.
He just needs to convince more people of the long-term return on investment for solar panels, both financially and environmentally.
"We can do this – we will do this. We will do this," said Dr. Joe, as the herd of students began to thin and Ebaugh Laboratories prepared for class time.
"It's just a matter of how much tragedy we have to deal with along the way. We will solve climate change. We will do it. It's just not going to be without consequences, and the scale of the consequences is all we're debating right now."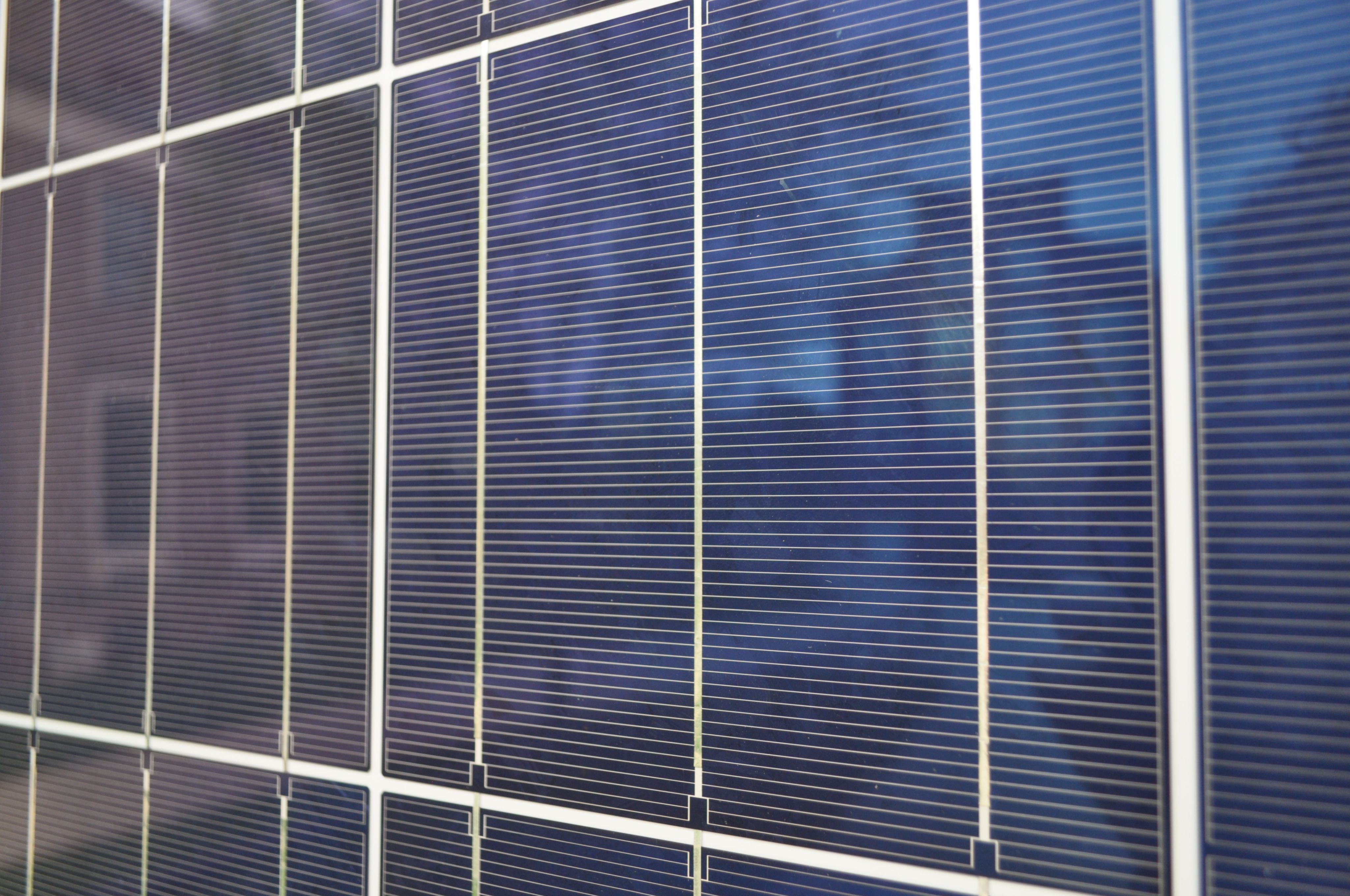 Dr. Joe carried this cumbersome, 60-pound solar panel downstairs and outside Ebaugh for a photograph. When I arrived with my camera, he had the panel waiting, leaned up against the wall outside his office.
In 2017, Denison University installed a 10-acre, 2.33 megawatt solar array in the campus Bioreserve. It supplies about 10% of the college's electricity.
(photo courtesy of third sun solar)
The original 6.4 kilowatt project was installed on the rooftop of the university library in 2007.
(photo courtesy of Denison University)
Denison's grid of 10 solar arrays cover about 16% of the school's total energy needs.
Dr. Joe might call that a good start.
(photo courtesy of Denison University)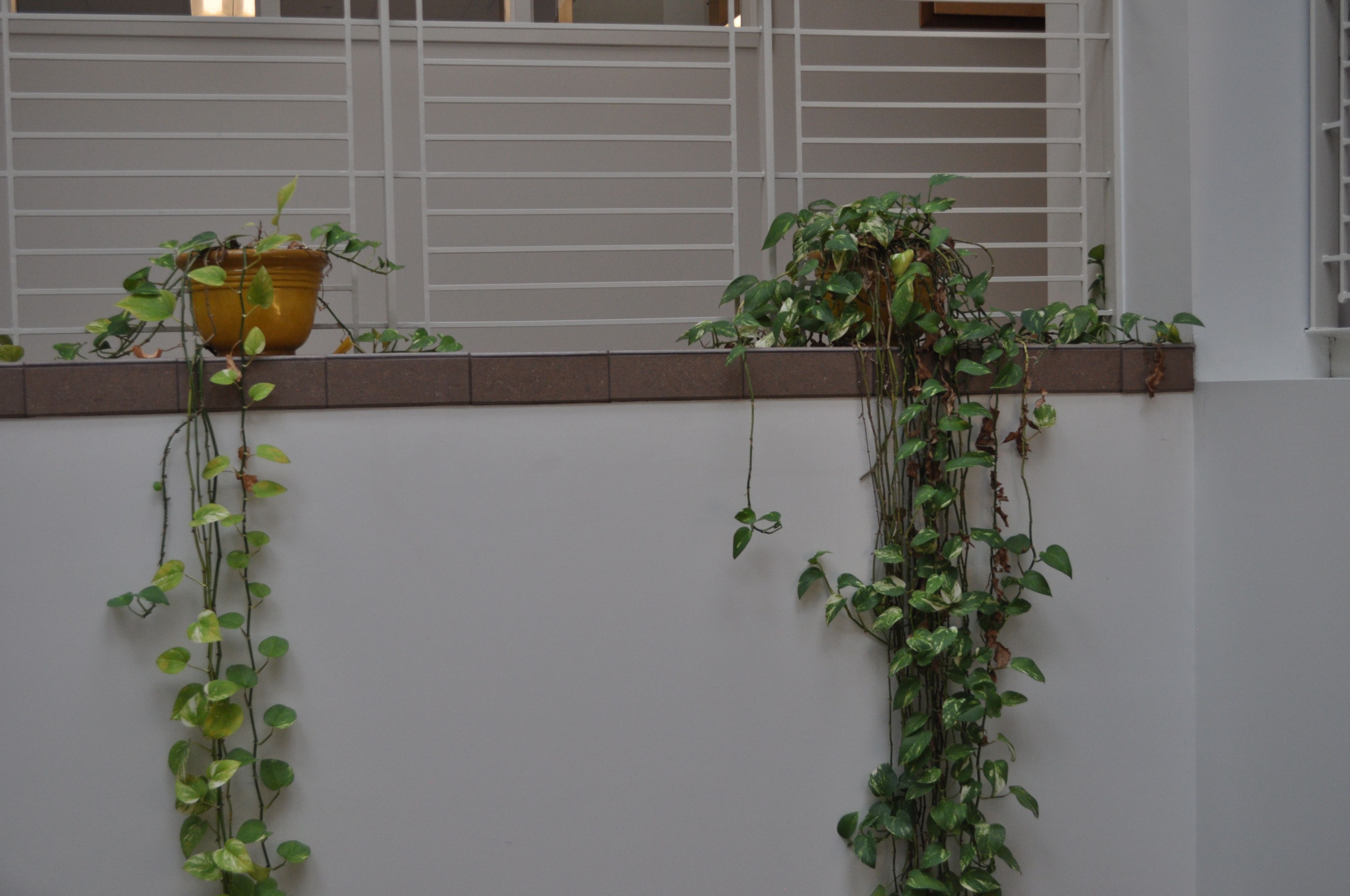 Plants sprawl down the staircase of the otherwise sterile and cold Ebaugh facility. Photo by Jack Reaney
Plants sprawl down the staircase of the otherwise sterile and cold Ebaugh facility. Photo by Jack Reaney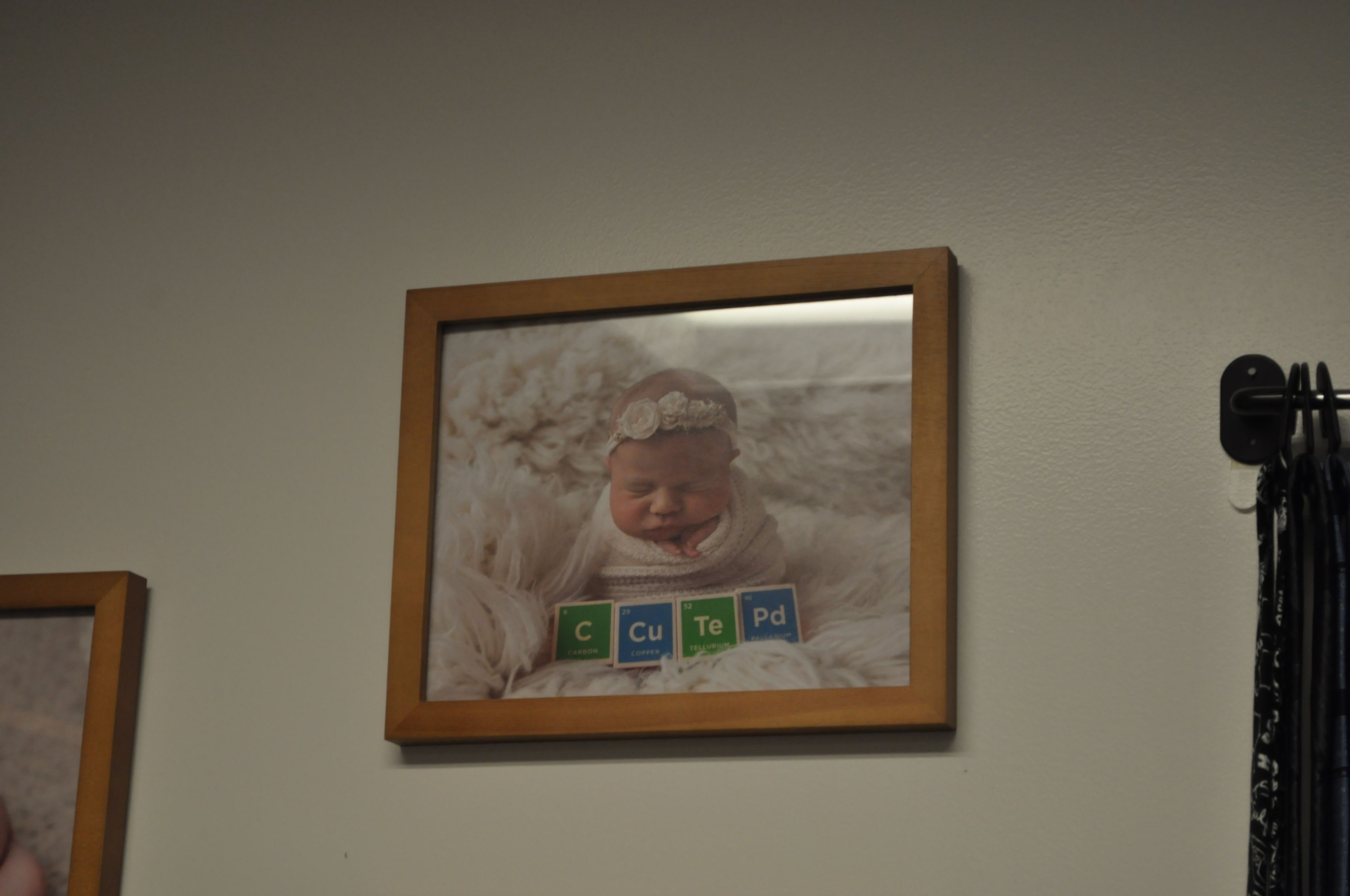 Dr. Joe photographed his newborn with "CuTe" framed by his two favorite elements: Carbon and Palladium.
Dr. Joe photographed his newborn with "CuTe" framed by his two favorite elements: Carbon and Palladium.
Item 1 of 1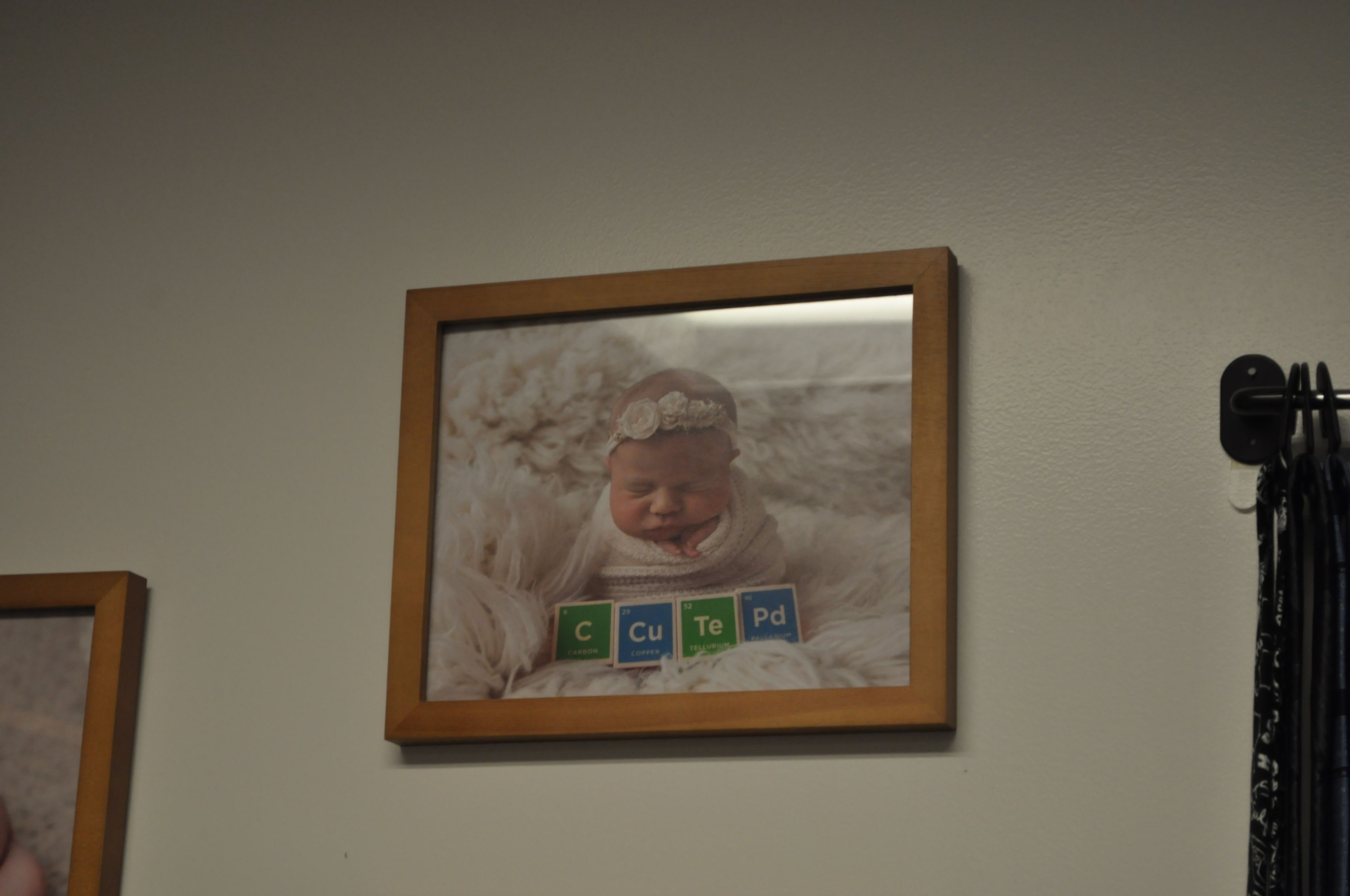 Dr. Joe photographed his newborn with "CuTe" framed by his two favorite elements: Carbon and Palladium.
Dr. Joe photographed his newborn with "CuTe" framed by his two favorite elements: Carbon and Palladium.