College students use a lot of plastic solo cups. A LOT! They use them and they throw them away.
One student dares to stand up and ask, "Can we do better?" Jack Reaney shares his experiences in this award-winning audio story.
THE MAKING OF "YOUR CUP"
Jack Reaney Describes His Process
It was Tuesday, and I was behind schedule.
I showed up to my Multimedia Storytelling class unaware that our audio story pitches were due. After 80 minutes of shame and regret, I sought help from Mellon Fellow Molly Born.
"I'm hoping to do something with red Solo cup waste," I said. "And I think I can focus on my fraternity, using cup sounds and party interviews."
Molly took enthusiastically to my idea; she spent 40 minutes helping me develop an angle. We looked online and found out about Fette Cups––the compostable cup brand which sets up the ending of the piece––which confirmed the relevance of this story.
Molly also inspired me to challenge my fraternity to collect, wash, and reuse cups. The podcast could track our progress, juxtaposing our experimental voices against expert stories from outside my small slice of Denison University.
My brothers bought in. We hosted only one party during this time span, but the interviews were outrageous.
As a writer, I struggle with wordiness and when I'm editing I usually spend most of my time making cuts. The same felt true with my audio. I made pass after pass; I slowly realized which tape is essential, versus just entertaining.
The hardest part for me as a writer is wordiness and I usually spend most of my editing on trimming. The same felt true with my audio.
I had spoken with Dr. Jeremy King for a couple other student projects throughout my undergraduate tenure, so I felt comfortable emailing him for an interview.
We discussed waste and sustainability for 45 minutes. But again, crafting a 5-7 minute story, I could only give him 45 seconds. I had to isolate the most important elements of our conversation.
I turned in a project draft that was too long, and I failed to execute on my vision to make music by layering cup sounds. Thankfully, I received feedback from an audio professional mentor brought in by the Journalism program. Basim Blunt, known for "head nodding, booty shaking funk" at 91.3 WYSO, encouraged me to trim the story and give my original music another shot. Music production was holding me back, so I contacted Dawson Kimbell '25, a Music Composition major and new fraternity brother.
In 30 minutes, Dawson listened to my vision, then composed the perfect soundbed on FL Studio using sound recordings of a ping pong ball bouncing and Solo cup hitting the table.
I finally recorded my script on the Journalism program's Shure SM7 microphone. I heard my voice through the stereo headset in real-time and felt like a real producer.
That's not a feeling I had ever thought about wanting. It made me wonder what could be next.
editor's note: During Journalism at Denison's fourth annual Podcast-a-thon, students from seven Denison courses created in-depth audio stories based on class topics and assignments. This year, 140 students worked alongside audio professional mentors, 7 faculty members, and staff from Denison's Educational Technology Services (ETS). Jack Reaney's story advanced as the top winner from his Multimedia Storytelling class to winning the Buzzy Grand Champion award, as well as the People's Choice award. Reaney collaborated with Denison student Dawson Kimbell '25 on original music and sound production.
New to the competition this year was the Community Participant category, open to the general student body as well as the greater Licking County community. The next Podcast-a-thon will be held in March 2023.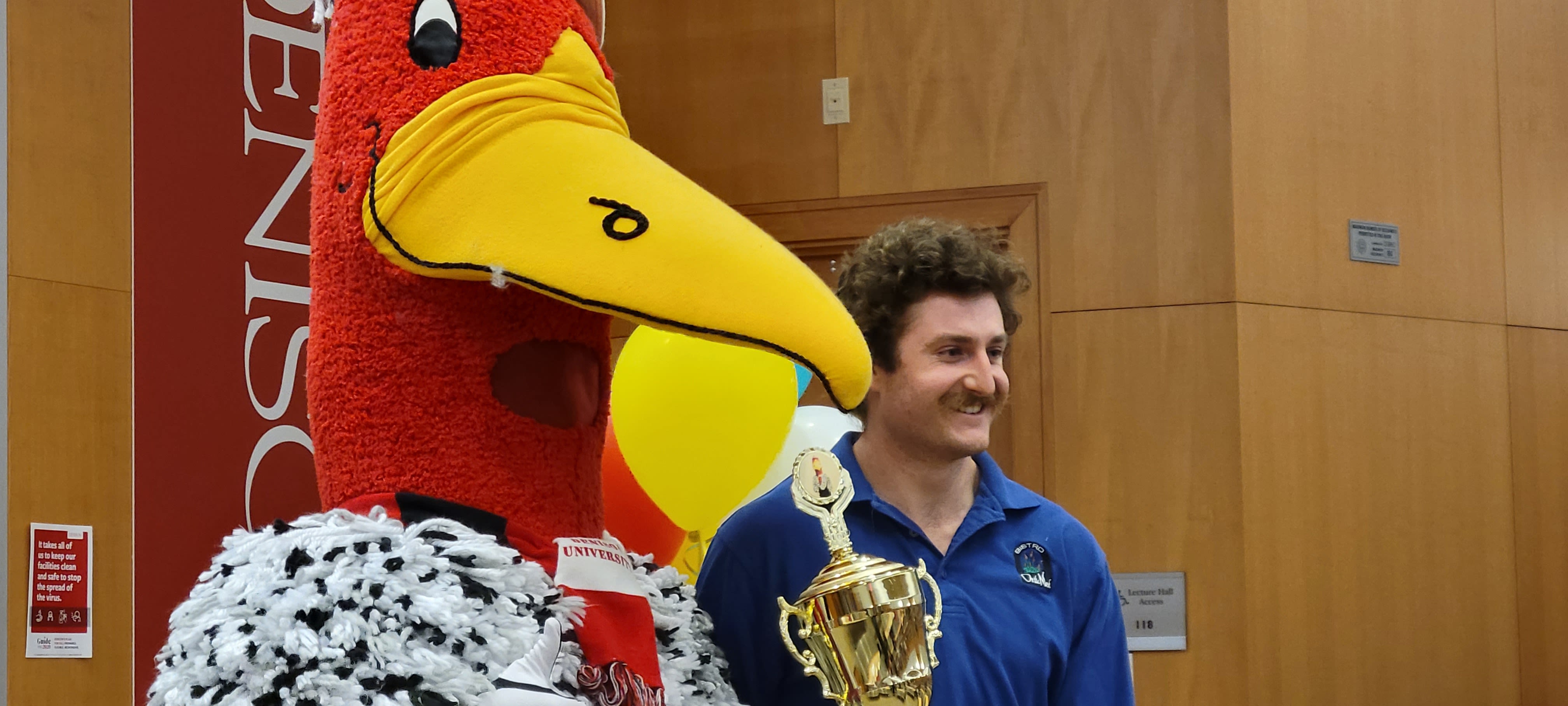 Jack Reaney '22 accepts the Buzzy Grand Champion departmental trophy for the fourth annual Podcast-a-thon at Denison University, March 4, 2022. Delivering the prize, Buzzy himself!
Jack Reaney '22 accepts the Buzzy Grand Champion departmental trophy for the fourth annual Podcast-a-thon at Denison University, March 4, 2022. Delivering the prize, Buzzy himself!